Can we send her through Paris or will she get stuck when their airspace closes?" "Singapore may not let in flights from the UK – will they turn her flight around?" "How can we get her home?
These can't be my conversations. These are the conversations of my parents. Borders slamming shut, not being allowed to enter countries, not being allowed out. I am living an experience that feels like something I have lived in a past life.
My father would have known what to do. I'm not sure about my mother – she would have either become completely unnerved or confidently packed the pantry to survive for a year or maybe even two. They would have known how to keep their family safe in this COVID19 world; they would have sensed and recognised the vulnerability and danger coming earlier than most.
But my parents are no longer alive to consult. Did I learn anything from their experiences? Has my sense of helplessness failed them and my family? I am suddenly struggling with the trauma of being a child of Holocaust survivors so very intensely. Something deeply internal has been triggered in me for the first time.
I am choosing to share my struggle as I know that I am not alone in being triggered in this particular way. I believe that in a time like this we are empowered by knowing that we are not alone in this experience.  Recognising the trigger for Holocaust survivors and their children can help us find strength to take control of the way we will choose to react to our new world.
I was my parents' 'accident' – their words, not mine. I was born just shy of their 40th birthdays. Back in 1968, at age 40, people had grandchildren, not children. I am therefore a relatively young member of the 'second generation' of Holocaust survivors, most being at least 10+ years older than me.
Growing up, my friends fell into two groups: those whose grandparents were survivors and those who were many generations Australian. It wasn't until university that I connected with someone my age who understood what it was like to grow up with survivor parents. In my 20s I read Helen Epstein's book, 'Children of the Holocaust: Conversations with Sons and Daughters of Survivors' and realised that growing up with survivors was a thing. Finally, so many feelings and experiences made sense.
My mother survived several concentration camps including Auschwitz and Theresienstadt. My father survived expulsion to Siberia. My parents and their friends spoke openly of the horrors – a lot. I was exposed to their experiences from a very young age; they often forgot that there was a child in the room listening apprehensively. At school, when I learned to write I was so excited to use a pen. One day, I wrote some words on my hands as kids tend to do. When I came home at the end of the school day, I had no idea this simple act would elicit an explosive reaction from my mother. She screamed at me for writing on myself "like the Nazis did." She had the look in her eyes which I came to recognise as a signal that her mind had taken her back to that horrible place with those people. At age 5, I didn't know who Nazis were.
My father who survived Siberia and reached Israel illegally in time to join the Palmach and fight in the War of Independence was also characteristically overprotective.  In 2006, I was in Israel on a holiday with my family. I could not understand his behaviour when he cried to me on the phone, begging me to leave with my young kids because the Lebanon 2 War had erupted. As a staunch Zionist, I self-righteously declared to him that we would leave on the date we had planned to leave, as, cutting our trip short would send a message that our lives are more valuable than those of our Israeli family and the rest of the Israeli population who must stay behind in bomb shelters. Rockets were falling across the north of the country and my father feared that soon we would not be able to leave as the airport would close. "No way that will happen Dad", I insisted, "and of all people, Dad, you should understand the need to be here during a war."
And here we are in 2020 living through an ever-evolving dystopian nightmare of the COVID19 pandemic. In a surreal way, I feel like I am reliving my parents' experiences – uncertainty one minute, panic shopping then denial "it's fine, it will be over soon" the next minute.  Overwhelming.
I was never going to be the neurotic mother insisting that our 18 year old daughter on her gap year in Israel come home. Wasn't I the self-righteous daughter not that long ago? But now, as a child of Holocaust survivors, I was bestowed with a brilliant ability to catastrophise the current situation with great clarity. My immediate reaction to this time of radical uncertainty, was to ask my daughter to return to Melbourne. It took days to convince my daughter and the rest of the family that she should come home. In fact, at one point I began to doubt myself, aware of the fact that my internal trauma was affecting my decision making; I was perceived as "irrational". For as long as I have been a mother, I have always been just 24 hours flight away from my kids wherever they are in the world. I have never known what being "cut off" means. I was now paralysed to the core by the realisation that if I don't bring our daughter home I was going to learn about being unable to see her. My parents would have seen this coming and would have insisted earlier that my daughter return immediately, because they know what it is to be cut-off from family.
As I write this article, my daughter is thankfully sitting upstairs in her bedroom in self-isolation. After last minute cancellations, much anxiety and spending 35 hours focusing on that little plane travelling across the line on my phone screen to each stop on the way – Tel Aviv, London, Singapore, Sydney, Melbourne. I didn't sleep, I couldn't think clearly and I felt as if I literally couldn't breathe until I saw our daughter walk in the door with her mask on. We couldn't hug but curiously, that was ok as just seeing her in front of me was enough. She was home.
There is much research and literature on the transfer of trauma to children of survivors. From years of hearing the stories shared, the movies watched and the books read, children of survivors can suffer nightmares as if they were the survivors themselves.  The very real fear of about to being cut off from my daughter together with endless news about the uncontainable spread of the virus, my Holocaust nightmares have returned. During the day, in between ensuring adequate policies and procedures are in place to protect people in the organisations I lead, I walked around with guttural fear of what's possible.
The emotions of general anxiety and panic arising out of this pandemic are being experienced by many people, they are not unique to Holocaust survivors or their children. However, for us, for me, internally I felt and still feel that every trigger is taking me back to a trauma from a time I never lived through but was told about again and again in my childhood. No, not the danger and the murder of millions but rather the uncertainty about work, food, medicine. Walking into the supermarket and seeing empty shelves. Popping into my regular pharmacy to be greeted by the staff wearing protective masks and gloves. I feel like I am walking onto a strange film set in which I am the cast, not the viewer.
I acknowledge that I am in a very fortunate situation to pass through these uncertain times in a far more secure position than many others. As such, I feel that I cannot afford myself the luxury of merely coping in this situation. In order to be able to support my family, assist others and lead communal organisations, I needed to understand the source of my personal fear, give it space and then manage it. Doing so has enabled me to take some level of control as to how I am going to respond moving forward.
Having my daughter return has obviously helped me think more clearly. But I have delved deeper into my thoughts to understand the visceral reaction I had to bringing her home. I have reflected on the works of Viktor Frankl and Edith Eger. In 'Man's Search for Meaning', Viktor Frankl discusses one's ability to choose one's reaction in any set of circumstances:
Everything can be taken from a man but one thing: the last of the human freedoms—to choose one's attitude in any given set of circumstances, to choose one's own way.
In 'The Choice', Edith Eger wrote:
Strength isn't reacting, its responding – feeling your feelings, thinking them over, and planning an effective action to bring you closer to your goal.
When I read these works I wondered how I would react in such circumstances. And then I suddenly got my chance to find out. In the seven days leading up to bringing my daughter home I was sure I had failed as I felt paralysed. But in actual fact, we got her home safely, and arguably before a whole new level of restrictions around international travel kicked in and made travel even more risky. So I decided to make peace with my internal trigger and accepted that it was a part of me and would shape my current view of the world.
And finally, my 95 year old Auntie Pesia who lives in Israel, in just one minute, gave me all the strength I need to navigate what lies ahead. In a recorded message to her grandchildren and great grandchildren, in a calming voice, Auntie Pesia spoke simply about the fact that this difficult time will pass and we must and will grow strong from it. It is not only her words that are powerful, but also the historical context in which they are said. During the Holocaust my Auntie Pesia was hidden in the roof of a barn for two years. No Netflix, no books and no fridges packed full of food. She survived this very harsh isolation and many subsequent tragedies and losses throughout her life.  Last week as Israelis were ordered to stay at home, she sat with a smile and found the strength, through exactly the right words, to guide us to the light at the end of the tunnel:
My dearest grandchildren and great grandchildren, we are distant from each other at the moment but it is not our fault. And apart from that, all of this will pass. I know it will, I have survived so many terrible things and I simply got stronger. I don't need to remind you that I am 95 years old – you know that. So please my dears, be strong, be happy and always only think positively. We will see each other again and we will even laugh and joke. With love, your old Grandmother. [translation from Hebrew]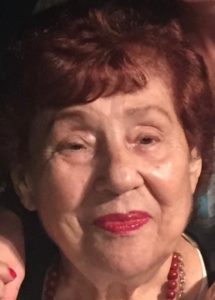 As Australia shuts its borders and its schools, my commitment is to hold space for my internal triggers and channel my Auntie Pesia's strength in order to empower me to intentionally shape my reaction to the challenges that lie ahead. I hope that you can too.