Hello and thank you so much for taking the time to write an article for Jewish Women of Words.
In order to submit an article there are three steps. Please follow each step in order… but don't worry it will take about 5 minutes and we walk you through exactly what you need to do.
New author to Jewish Women of Words
Complete the following steps:
Returning author to Jewish Women of Words
Complete the following steps:
Step 1: Register to be an author
Firstly, we need to register you as an author. Once you successfully register you will be sent an email with your username. You will also be prompted to change your password.
Step 2: Log into WordPress
Great news that you have received the email and you have updated your password. We will now need you to log into WordPress with your email address and new password.
Forgotten your username or password? No need to worry… to reset your password or find your username, please click the Register | Lost your password link under the WordPress Log in and enter your email address. Your username or password will be sent to your email address.
Step 3: Upload your profile picture
We would love you to share a profile picture to support your article. Don't worry, as you have already signed into WordPress, we will be able to automatically link your photo with your profile. If you would like to include your profile picture please do the following:
Click on Profile: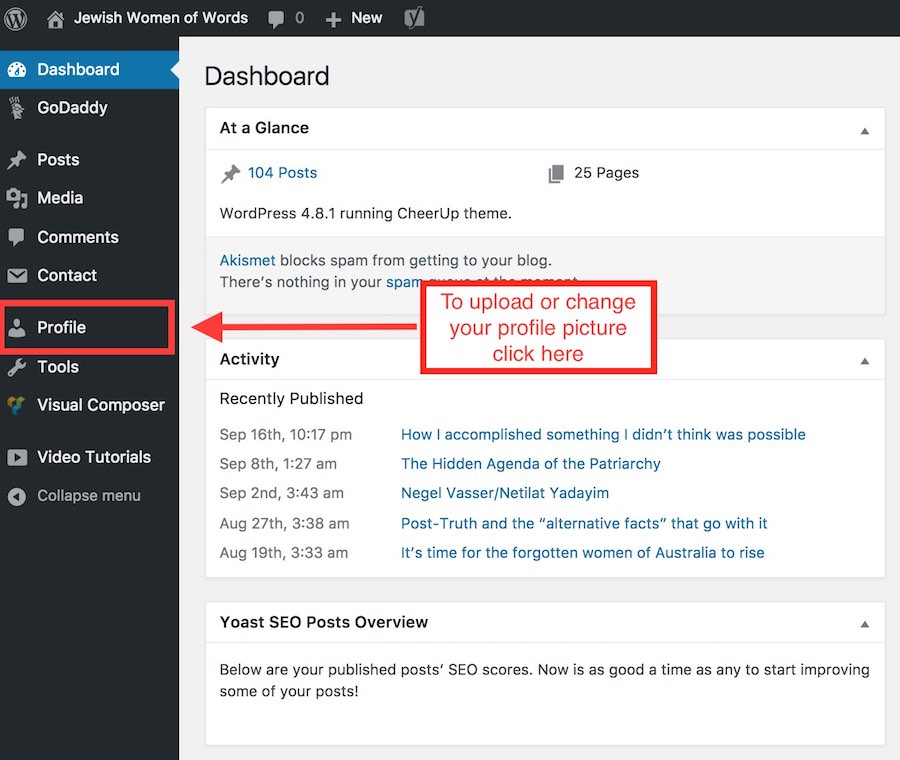 Upload a photo:
Step 4: Submit an article
You will need to be logged into WordPress to submit an article. Once you have logged into WordPress using your email and password you can submit an article. To submit an article complete the following steps.
1. Click on visit site
2. Submit a post
3. Click this link
Remember, you must be logged into WordPress to submit this post.