Rebecca Forgasz is outgoing Director of the Jewish Museum of Australia. This extracts is taken from part of her public farewell lecture, Ten tantalising tales: stories from our collection, which reflect on the personal, collective and cultural significance of objects, and the collections that house them.
# 4 Diversity of Jewish culture / Yemenite headdress
One of the things that I have always thought was so important and special about this Museum is the way it showcases the richness and diversity of Jewish culture around the world. Growing up, I had a very narrow view of what Jewishness was.  My grandparents were all Polish post-World War Two migrants. I went to Mount Scopus Memorial College in the 1980s-early 1990s and most kids I knew either had Holocaust survivor grandparents or were themselves more recent migrants – from Israel, South Africa or the former Soviet Union. Whatever the case, anyone Jewish I knew of my grandparents' generation spoke English with a thick accent.
So jump ahead to a day over 20 years ago when I'd just started working at the Museum. I saw some older women volunteers at the front desk who looked for all intents and purposes just like one of my own grandmothers. I went up to them to say hello and introduce myself – well, imagine my shock when they responded in a broad Australian accent!!
Over the years, I have had the privilege of learning and helping to stage exhibitions about Jews from all over the world – India, China, Bukhara, Greece and more – which broadened my understanding of Jewish peoplehood and Jewish history, and gave me an enriched aesthetic appreciation of Jewish material culture.
One of my favourite objects in our collection from a country that I never knew Jews came from is this Yemenite headdress and jewellery – part of the rich costume worn by Jewish women in Yemen for their pre-wedding henna ceremony.
The ceremony is held about a week before the wedding and attended by female relatives and friends. Intricate henna patterns are stained on the bride's hands or feet for good fortune and fertility. The ceremony marks the transition from the status of girl to adult woman and is common in Asia, North Africa and Middle East – it's one of those examples that challenge the notion that Jews preserved their identity only by rejecting outside influences. In fact, in so many cases, we see Jews adopting – and adapting – the customs, style and fashion of the surrounding society.
There is a specific Jewish addition to this headdress: the black beads, which serve as a reminder of the destruction of the temple in Jerusalem, even amid the joyous celebration of marriage. The order, shape and number of other decorations and ornaments all have symbolic meaning as well.
Jewellery-making, particularly silversmithing, was a specifically Jewish occupation in Yemen from 18th to mid-20th C, as Muslims considered it impure. The labbe necklace shown here was one of the most complex designs made by Jewish silversmiths. (I did make a special request of our curators to wear one of our Yemenite necklaces tonight for this event, but was told, sadly, that this would constitute "unnecessary handling"!!)
Yemenite Jews brought their tradition of jewellery-making to Israel when majority of population migrated there in 20th century. This is a photo of young Yemenite silversmiths at the Bezalel Art School. The Yememite jewellery was distinguished by its use of filigree – a feature we still see in the jewellery that so many of us take to be "typically Israeli" even today.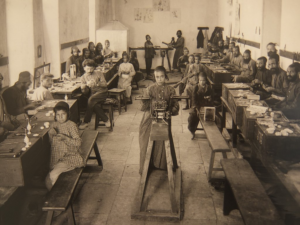 We're actually very lucky to have this headdress in our collection, because apparently they are quite rare. Because they are so heavy, many families left them behind when they were leaving Yemen. But more than the rarity (and stunningness) of this item, I love that this would be such an unexpected and surprising object for so many Jewish visitors from our predominantly Ashkenazi community. I would hope that it would open their eyes to the diversity of Jewish culture that they were simply not aware of.
Before moving on, I must share one of my favourite facts about Yemenite Jews, which I learned from an exhibition of photographs by Frederic Brenner that I curated way back in 2007. The Yemenite Jewish community was very pious but very poor, so they didn't have many books to study traditional Jewish texts from. When boys would gather to learn together, they would have to all sit in a circle huddled around one copy of a book, so they would all learn to read upside down!